Habitat for Humanity Opens Mt. Burdell
Francisco loves being hands on and giving back to his neighbors. He and his family moved to Marin County 16 years ago. Over time, they shared the birth of their two daughters, new jobs and many memories with their community and friends from church.
It was through their church that Francisco first signed up to volunteer at Mt. Burdell Place, Habitat for Humanity Greater San Francisco's ten-home development located at 1112 Fourth St in Novato. Francisco enjoys his work in the construction field and knew he would like using his skills to help others.
While volunteering, Francisco realized his family might qualify for a Habitat home. He thought, "Why not apply and see?" Neither he nor his wife ever considered homeownership a possibility with Marin's soaring housing costs.
Months later, Francisco got the call from Habitat letting him know that he and his family were selected as homeowners for Mt. Burdell. Francisco could not believe his ears. Owning a home meant his daughters could stay in their schools and he could keep his job in San Rafael.
On Saturday July 29, the development officially welcomed Francisco and its other new homeowners. The home dedication ceremony was a huge celebration filled with excitement and emotion as 10 families received keys to their new homes. Many of the new homeowners are longtime Marin residents who have been in the county for many years. They were ecstatic to be able to remain in Novato — the city where they have built close-knit communities, grew their careers, and school their children.
Mt. Burdell Place is the first multi-family development in Marin for Habitat for Humanity Greater San Francisco. Just two blocks away from downtown Novato, the development of 10 three-bedroom, single-family homes brings much-needed affordable housing to Marin County, which continues to rank as one of the most expensive places in the nation. The development is also GreenPoint Rated through Build It Green, featuring key sustainable design elements, including rooftop solar, drought resistant landscaping, and ENERGY STAR appliances. 
The development is the fifth Habitat project in Marin, but the first in the county to be constructed from the ground up. The land was originally planned for market-rate homes, but Habitat purchased the land to develop 10 affordable homes with the help of the City of Novato and MCF. 
The families moving into Mt Burdell pay a 0% interest, 0 down-payment mortgage that is no more than 30% of their annual income to Habitat—allowing them to remain in a community many of them have long called home. Each household also contributed 500 hours of sweat equity alongside Habitat's volunteer work force and community partners. In fact, more than 43,000 volunteer hours went into making Mt. Burdell Place possible.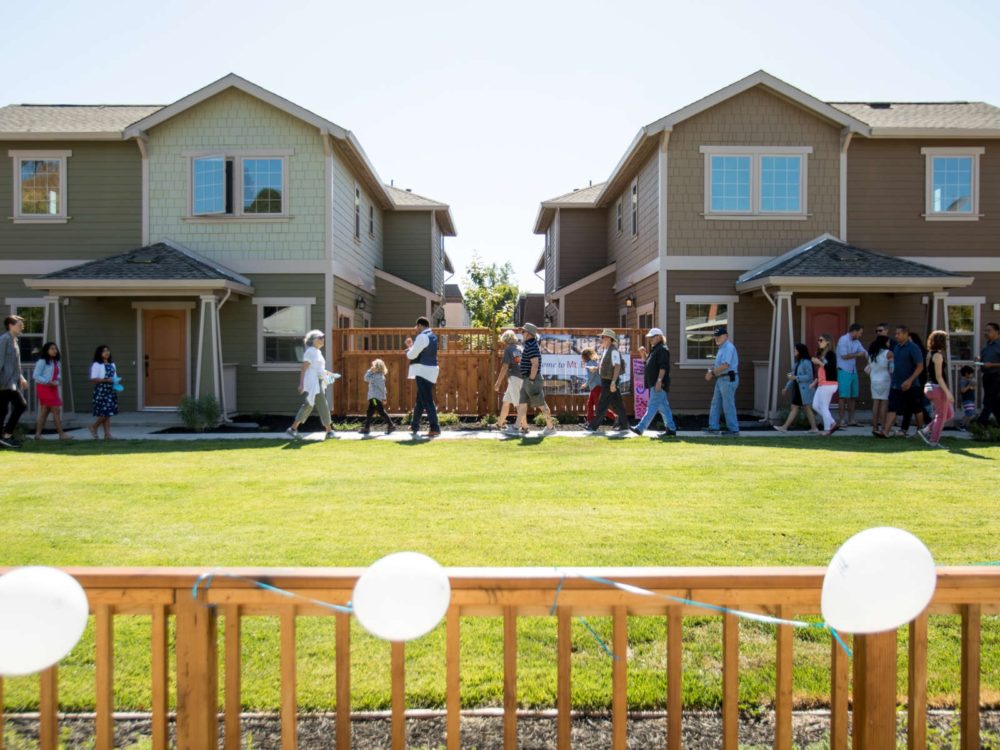 "Marin home prices have hit a new record-breaking high and the backbone of our workforce is suffering the devastating consequences," said Maureen Sedonaen, chief executive officer of Habitat for Humanity Greater San Francisco. "Marin's teachers, healthcare providers, and first-responders can no longer afford to live here, let alone own a home. This is why Habitat Greater San Francisco is eager to build off the success of Mt. Burdell Place and expand our presence in Marin. We are actively looking for new partnerships and land to develop much needed affordable homeownership opportunities in the region." 
Habitat Greater San Francisco remains the only provider of affordable homeownership opportunities for households in the 40 to 80 percent area median income range, which is anywhere between $46,000 to $92,000 for a family of four. All new homeowners complete an extensive selection process, including a review of their financial status, job history, residency, and other qualifications. Habitat applicants must meet certain income guidelines, have good credit, maintain a minimal level of debt, and be willing and able to perform the 500 hours of labor to build their own home.
If you'd like to learn more about Habitat for Humanity Greater San Francisco, you can explore its website here, or contact your philanthropic advisor.